The JLP at the 2016 Career Boot Camp
The JLP Regional Field Coordinators in the Atlantic region held a kiosk at the Career Boot Camp - a national and interdepartmental event organized by the Canada School of Public Service. The event, which took place on February 17, 2016, offered all public service professionals a chance to reflect upon and enhance their career path. The theme for the 2016 edition of the Career Boot Camp was The Career I Want.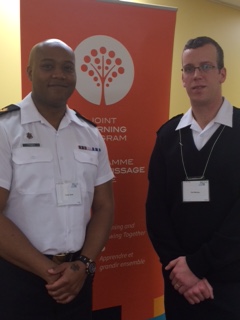 (Left to right): MS Korey Tynes and MS (William) Gary MacKay visited the JLP kiosk.