The JLP Welcomes New Facilitators
From June 6 to 10, 2016, the Atlantic Region hosted an orientation session for new facilitators. The session was facilitated by the JLP Program Officers, Patrick Dorval and Rachel Besharah.The participants were introduced to the Creating a Harassment-Free Workplace, Respecting Differences / Anti-Discrimination and Understanding the Collective Agreement workshop kits.
Angela Leger and Wanda Thomas, Regional Field Coordinators, have welcomed a group of 18 new facilitators: David Boyce, Stephen Chase, Laurie Coombs, Aurélie Cormier, Rino Doucet, Anthony Drozdowski, Joey Dunphy, Cassandra Grosse, Nicole Hobbs, Karen Johnson, Melissa Leblanc, Luc Lévesque, Belinda Macnutt, Rachelle Richard, Karla Russell, Lisa Savoie, Rhonda Simmons and Len Spencer.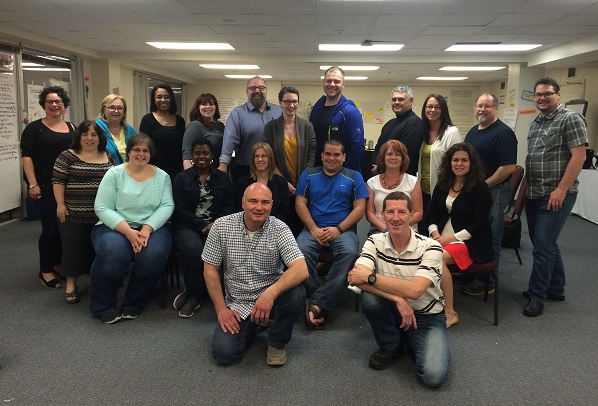 Here are some quotes from participants:
"This week's facilitators' orientation was absolutely wonderful! I not only learned tips and tricks that will make me a more effective facilitator, but I'll also be able to use what I have learned in my personal life." (Aurélie Cormier)
"Engaging training that builds your skills to confidently facilitate workshops." (Stephen Chase)