Congratulations to Kimberly Poirier for the delivery of 50 JLP workshops
On October 4th 2018, the JLP was happy to celebrate Kimberly Poirier for delivering 50 workshops. Her contribution in the National Capital Region (NCR) supports the Program mandate to improve communications and labour-management relations in the core public administration.
Since becoming a JLP facilitator in 2011, Kim's support and dedication has been a true contribution to the success of the Program. She is the 11th facilitator to be recognized for this outstanding achievement, reaching close to 1000 federal employees.
As a JLP Facilitator as well as 1st Vice President- Eastern Ontario Branch Executive of the Customs and Immigration Union, Kim could not have reached this important milestone without the support of her manager.
Patrick Rosemond, Regional Field Coordinator for the NCR presented Kim with a Certificate of Achievement at a workshop that she co-facilitated in Ottawa, Ontario.
The JLP is grateful to have you among its facilitators. Congratulations!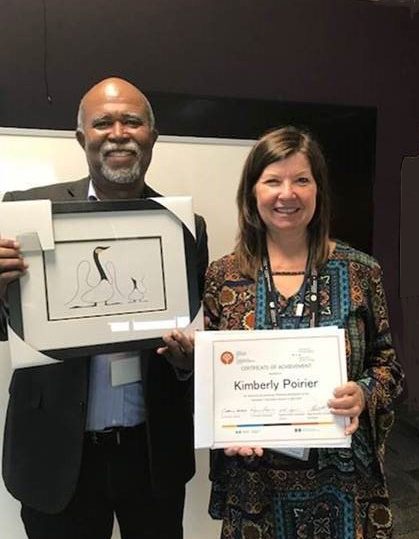 Patrick Rosemond and Kimberly Poirier