The JLP Welcomed 18 New Facilitators in the Prairies/NWT Region
The Prairies/Northwest Territories Region is pleased to have welcomed 18 new facilitators to represent the JLP within federal public service workplaces across the Prairies and Northwest Territories. These new facilitators completed their orientation session in Edmonton, Alberta from February 24-28, 2020.
The participants explored learning activities from the Preventing Harassment and Violence in the Workplace workshop. They practiced their new facilitation skills using the JLP learning kits on Duty to Accommodate and Respecting Differences and Anti-Discrimination. Program Officers Rachel Besharah (Union) and Nathalie Duquette (Employer) guided participants' learning.
In addition to working with our wonderful Program Officers, participants got to know Désirée Yaxley, the JLP's new Program Delivery Administrator, who joined us from the Public Service Alliance of Canada. As one participant put it, "Rachel, Nathalie, and Désirée are some of the most pleasant, engaging, funny, and confidence-inducing facilitators I've ever come across."
Congratulations to our new facilitators and their eagerness to facilitate our newest offerings!
Regional Field Coordinators, Jerry Chacko and Mindy Mackie, welcomed the following group of facilitators to the JLP Team: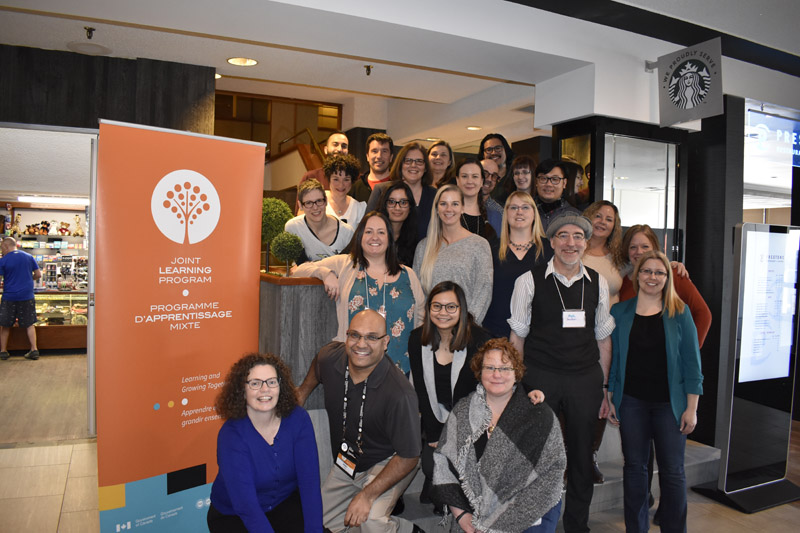 From left to right, from the back row:
Back row – Claudio Fernandez, Chris Donnelly, Pam McCabe, Bernard Baloy
Rachel Besharah, Sheryl DeBoer, Carter Thompson, Kelly MacDonald
Nathalie Duquette, Sukhpal Sangha, Tricia Magnuson, Allan Tam
Stacey Doherty, Mackenzie Garbe, Heather Heystek , Shawna Grant, Sandra Moore
Désirée Yaxley, Jerry Chacko, Marian Tan, Kylie Howsam, Mark Sander, Mindy Mackie