JLP Welcomes New Facilitators to the Program
"This was by far the most enjoyable learning experience I have had since joining the Federal Government."
The JLP is happy to announce that a new group of facilitators is joining its ranks. Fourteen federal public employees from the BC-Yukon, Prairies-Northwest Territory and Ontario-Nunavut regions participated in the five-day session that ran from November 15th to 25th, 2021.
The participants experienced activities from one of the discussion sessions, Anti-Racism: Let's Talk! as well as prepared to deliver their own facilitation exercises from this popular guided discussion. In light of the atmospheric rivers and intense weather across multiple provinces during the session, the group expressed great care for each other's circumstances. Tight bonds were built!
At the group graduation ceremony on the final day, participant Mona Mendel conducted a special presentation with a collection of inspirational quotes, poems, lyrics and images gathered from every participant. The graduation was also attended by the JLP Co-Directors and the Regional Field Coordinators from the represented regions. The JLP Program Officers Nathalie Duquette and Rachel Besharah facilitated the virtual orientation session along with the Program Delivery Administrator, Désirée Yaxley, who was the moderator.
"A variety of methods and strategies were used that were relevant to the topics covered."
The JLP is proud to welcome the latest cohort of facilitators to the JLP family!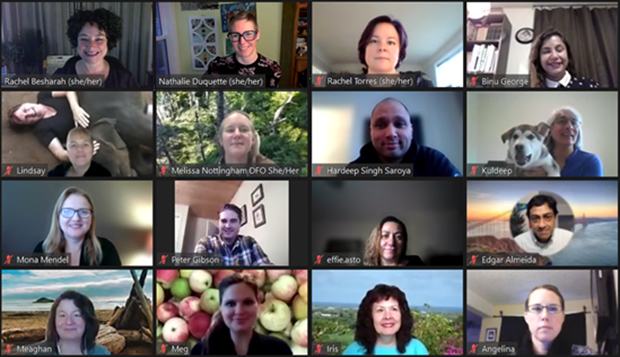 Top Row (L to R): Rachel Besharah, Nathalie Duquette, Rachel Torres, Binu George
2nd Row (L to R): Lindsay O'Dunn, Melissa Nottingham, Hardeep Singh Saroya, Kuldeep Deol
3rd Row (L to R): Mona Mendel, Peter Gibson, Effie Asto, Edgar Almeida
4th Row (L to R): Meaghan Danforth, Megan Lessard, Iris Michael, Angelina Lunde
"Learning was easy as the whole groups wisdom came through."