JLP Welcomes New Facilitators to the Program
"One of the best practical and information sessions I have taken in my 30 years with the government. I learned a lot and gained new skills and insight into my learning and facilitation abilities."
Kathryn Bunyan-McClendon
The JLP is pleased to wrap up the 2021 calendar year with the addition of sixteen new JLP facilitators! This group of motivated and engaged federal public service employees from the Ontario-Nunavut (ONT-NU) and National Capital Region (NCR) participated in the five-day JLP Facilitator Orientation Session from December 6 to 16, 2021.
From Day 1, strong personal connections were made among participants and former colleagues were reunited. Together, the group explored topics such as adult learning principles, fostering positive group dynamics and facilitation skills and techniques. They also experienced and facilitated learning activities from one of the discussion sessions, Anti-Racism: Let's Talk!
For the graduation ceremony, a group of three participant volunteers organized special activities. Rocky Bourgeois inspired the group with some of Dr. Seuss' words from Oh, the Places You'll Go! Suzanne Hehle and Elizabeth Reger co-facilitated an exciting virtual scavenger hunt where everyone, including the Co-Directors and the ONT-NU and NCR Regional Field Coordinators, participated. The JLP Program Officers Rachel Besharah and Nathalie Duquette facilitated the virtual session, and it was moderated by the Program Delivery Administrator, Désirée Yaxley.
"This group of people were able to pull things out of each other that many of us thought were not possible. Emotions and feelings were tapped into that many of us did not realize were there. This session has simply been the best I have ever attended."
Mark Walker
"Great session and training. I feel more equip to be able to facilitate a session and be able to navigate some difficult or uncomfortable situations that may arise."
Stacia Kilty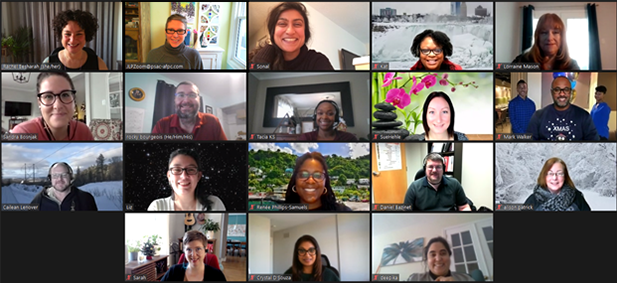 Top Row (L to R): Rachel Besharah, Nathalie Duquette, Sonal Parikh, Kathryn Bunyan-McClendon, Lorraine Mason
2nd Row (L to R): Sandra Bosnjak, Rocky Bourgeois, Stacia Kilty, Suzanne Hehle, Mark Walker
3rd Row (L to R): Cailean Lenover, Elizabeth Reger, Renée Phillips-Samuels, Daniel Bazinet, Alison Patrick
4th Row (L to R): Sarah Tremblay, Crystal D'Souza, Deepika Grover
"Very well put together, truly an enjoyable experience!"
Daniel Bazinet