The JLP Welcomes New Facilitators From Canada's Western Provinces!
A big welcome to twelve new JLP facilitators from British-Columbia, Alberta, and Saskatchewan. Seven (7) federal departments and agencies benefitted from the JLP's tenth Virtual Orientation Session that took place from May 9 to 19, 2022.
The twelve participants discussed antiracism throughout the session while learning and sharing experiences about adult learning and group facilitation. The session culminated with every participant practicing and applying their new skills by facilitating an activity from the JLP's Anti-Racism: Let's Talk! discussion session.
Two participants, Kate Hutt and Kristina MacLean, volunteered to facilitate a closing share-circle before the group graduation ceremony. Guests for the closing ceremonies included the JLP Co-Directors Catherine Gilbert and Roxanne Lepine and the Regional Field Coordinators from the British-Columbia-Yukon and Prairies-Northwest-Territories regions.
This session was moderated by Désirée Yaxley, Program Delivery Administrator and co-facilitated by now-retired long-time Public Service Alliance of Canada Education Officer, Terri-Lee Rayvals-Mele, and JLP employer Program Officer, Nathalie Duquette.
"This workshop will stick with me for the rest of my life, this was transformative and uplifting, I am so grateful that programs like this exist in the infrastructure of my workplace. The collaborative piece is so key to making long lasting change. I look forward to expanding my own mind and watching others experience the growth mindset I was able to!!"

— Kristina MacLean
"The JLP provided me with the tools that I need to become an effective facilitator and deliver various workshops to public servants across Canada. I am honoured to be a small part of this educational and informative initiative. I hope to inspire change and ensure that we all learn and grow, together. Thank you!"

— Nihada Hasanovic
The JLP is proud to welcome the latest cohort of facilitators to the JLP family!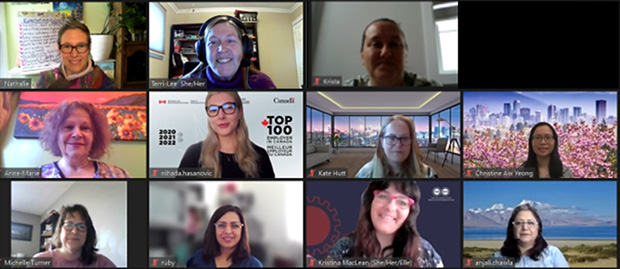 Top Row (L to R): Nathalie Duquette, Terri-Lee Rayvals-Mele, Krista Tebbutt
2nd Row: Anne-Marie Sleeman, Nihada Hasanovic, Kate Hutt, Christine Aw Yeong
3rd Row: Michelle Turner, Ruby Brar, Kristina MacLean, Anjali Chawla
Other participants: Susan Arling, Aliya Jiwa, Bart Dramowicz