A Bumper Crop of New Facilitators in the Prairies/Northwest Territories
The JLP's recent facilitator orientation session in the Prairies/Northwest Territories region welcomed new facilitators from across Canada for a week of learning in Regina. Regional Field Coordinators Mindy Mackie (union) and Karen Sokol (employer) hosted new facilitators from the Quebec, Atlantic, and British Columbia-Yukon regions, along with nine facilitators for their own region.
Thank you for all the positive comments, guidance and support to build my confidence! It's been a wonderful experience that I will never forget!

- Participant
These activities allowed new facilitators to become familiar with the material from three popular workshops and improved the participants' facilitation and communication skills. The week highlighted material from Preventing Harassment and Violence in the Workplace, Understanding the Collective Agreement, and Respecting Differences / Anti-Discrimination.
I haven't been on a course/workshop where people felt at ease with each other so quickly.

- Participant
Program Officers Nathalie Duquette (employer) and Kole Kilibarda (union) were delighted to witness how the participants from various regions helped the group gain perspective and widened exposure to different parts of the public service.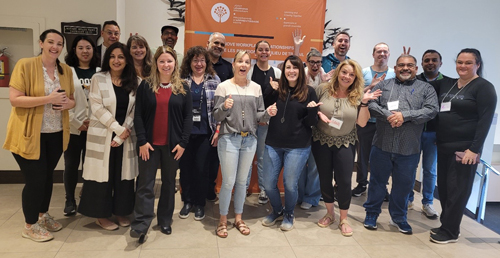 Front row (Left to right): Erica Pretzlaw, Gulnaz Mirza, Mindy Mackie, Karen Sokol, Debbie Lewis, Jessie Meldrum, Dana-Lee Armstrong, Steve Sukhbir, Monica Townsend.
Back row (Left to right): Teresa Shin, Jayson Lavergne, Danielle Babineau, Jag Dhadli, Hatem Hammad, Kristy Thomas, Nathalie Duquette, Kole Kilibarda, Danick Lacroix, Karamjit Gill.