National Coming Out Day 2020 #ComingOutLoud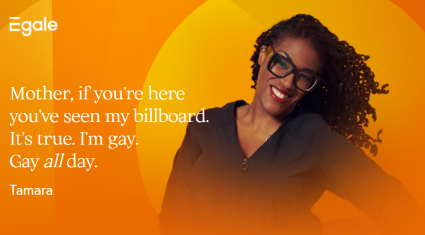 October 11th marked National Coming Out Day, and Egale Canada is spotlighting three brave individuals who were ready to come out in a very bold way in their Coming Out Loud campaign. Through their stories, we not only celebrate those that decide to come out, but also signal to the community that support exists for those who need it, and to raise awareness around the difficulties of coming out.
The JLP is thrilled to share that Tamara Lopez, an Ontario Region facilitator, is one of those brave individuals. While Tamara came out officially to her mother a few weeks ago, she didn't stop there. She came out to all of Toronto, Canada and the world through the Egale online campaign; several TV and radio media interviews; a large static billboard; and various digital billboards across the Greater Toronto Area.
"The 'Coming Out Loud' experience has been a surreal one, going through the range of emotions that accompanies one on their coming out journey. I hope that this campaign reaches people who might be struggling with their own identities so that they know it's ok, and that they're not alone." — Tamara Lopez, JLP Facilitator
Tamara has been a JLP facilitator since April 2011. She has co facilitated six of the seven workshops the JLP offers, for a total count of 63. She has also co-facilitated a Facilitator Orientation Session, as well as facilitator clinics for Mental Health in the Workplace and Preventing Harassment and Violence in the Workplace.
Congratulations, Tamara! The JLP is grateful for your commitment to champion change both within and outside the workplace!
For more information about Tamara's journey please follow the links below.
www.tamaraisgay.ca
www.bttoronto.ca/videos/national-coming-out-day-is-sunday-oct-11th
www.cp24.com/video?clipId=2053689