JLP welcomes new facilitators from CFIA
The JLP (PSAC-TBS), PSAC (Agriculture Union) and CFIA entered into a one-year pilot partnership agreement in January 2019. The objectives of the pilot are to strengthen union/management relationships in CFIA and to provide employees with a positive, healthy and respectful workplace, through the delivery of JLP workshops by CFIA JLP facilitators.
During the Orientation Session, facilitators experienced two learning activities from the JLP Mental Health in the Workplace workshop. They also had the opportunity to practice co-facilitating using the Duty to Accommodate workshop kit.
Members of the pilot steering committee joined the orientation session group for a Question and Answer session. In attendance were:
Fabien Murphy, PSAC Agriculture Union National President;
Chantal Seeton, Executive Director, Workplace Health and Diversity Directorate and Orientation Session participant;
Milton Dyck, PSAC Agriculture Union, Second National Executive Vice-President; and
Danielle Martin, CFIA Agreement Coordinator/JLP Liaison.
Below are a few quotes from our new, enthusiastic JLP facilitators:
'Learning facilitation skills and adult experiential education practices takes the pressure off the facilitators and places the power in the room with the participants to encourage them to use their experience and knowledge to learn together' (Todd Smith, Administrative Assistant).
'One of the best learning events I have ever gone to. The facilitators were fantastic and the knowledge really was in the room!' (Dorothy McRae, Food Processing Specialist Inspector).
'This training is amazing. Filled with great tips for facilitators. Activities are very engaging, interactive and thought provoking' (Dimpy Kaur).
'What a great way to learn as a team. This will benefit us for more than these courses. The style of collaboration is great (Tammy Carter, RVP Western Atlantic)
Welcome to the JLP family, CFIA!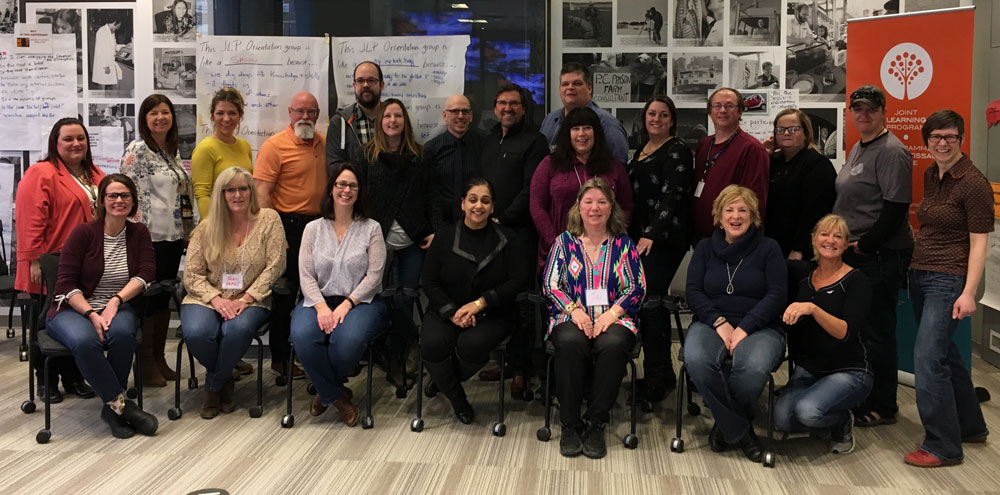 Back row (L to R): Danielle Martin (guest), Kim Sweeney (Orientation Session Co-Facilitator, representing the Union), Laura Lavallee, Craigh Houghton, Todd Smith, Cortnie Fotheringham, Craig Price, Fabien Murphy (guest), Randy Olynyk, Stacey Jewett, Elizabeth Beeler, Milton Dyck (guest), Tammy Carter, Dorothy McRae, Nathalie Duquette (JLP Program Officer/Co-Facilitator, representing the Employer).
Front Row (L to R): Dallas Nobiss, Joan Hardy, Chantal Seeton, Dimpy Kaur, Mary Darling, Patti Shadbolt, Elaine Rodgerson-Jubis.