PSAC Health and Safety Conference - Mind, Body and Soul
The JLP participated in the two-day event held in the NCR. Regional Field Coordinators Deirdre Brown (union) and Patrick Rosemond (employer) hosted a kiosk and provided the participants with information on the JLP mandate, objectives, and learning activities. There was much interest for its Mental Health in the Workplace (MHW) workshop.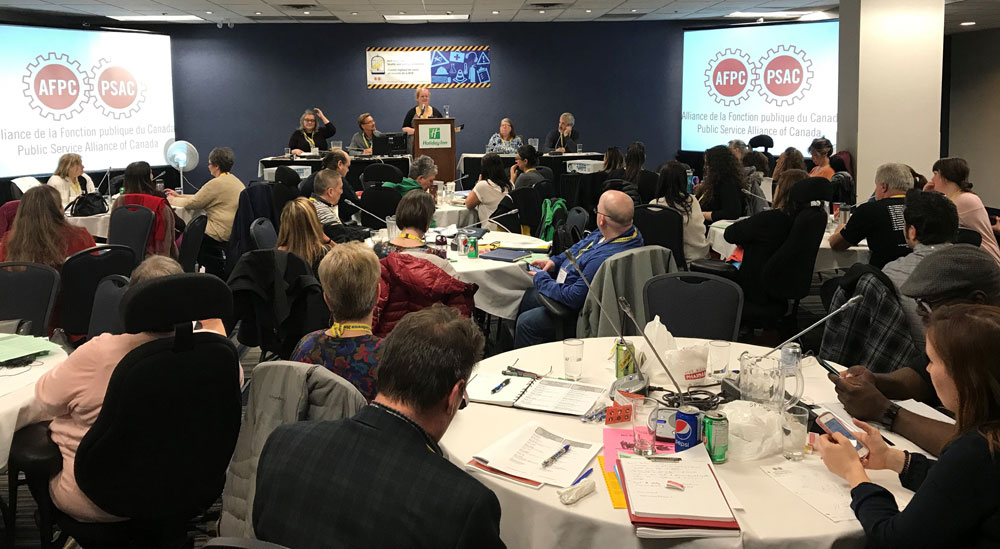 Deirdre Brown describes how the MHW workshop equips employees and managers with the knowledge and skills they need to support a psychologically safe and healthy workplace.
The Conference included PSAC Health and Safety representatives, subject matter experts, a representative from the Mental Health Commission of Canada and guest speakers. It was a unique opportunity to connect with professionals and practitioners on the subject of Psychological Health and Safety.
Keynote speaker, Elizabeth Manley, former Canadian figure skater, champion and silver medalist at the 1988 Calgary Winter Olympics, moved the audience with her touching and inspiring story of how she overcame her own mental health challenges.
Mental health in the workplace remains a priority for the JLP.